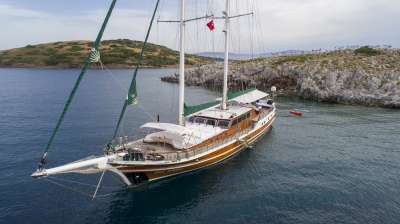 Availability
No Calendar Data available.
Please contact clearing house
Rates
High Rate:


31,500 EUR per week
Low Rate:


21,000 EUR per week
MCA Compliant: N/A


Additional Rate Details:
May, October: € 21,000 + 12% VAT + APA € 7,000
June, September: € 24,500 + 12% VAT + APA APA € 7,000
July, August: € 31,500 + 12% VAT + APA APA € 7,000

Price inclusive of all running expenses of the yacht, crew's wages, fuel for an average of 4 hours cruising per day, ship's laundry, free use of onboard water sports and recreational equipment, all taxes and harbour (public town quays) expenses.
Excluded: All meals and drinks, fuel motor-operated equipment, all private marinas, all land tours.

Although there may be exceptions, embarkation is mainly on Saturday at 17:00h, disembarkation on Saturday at 10:00h.
Summer Base Port: Rhodes
Summer Operating Area: Greece, Turkey
Winter Base Port:
Winter Operating Area:
Location Details: