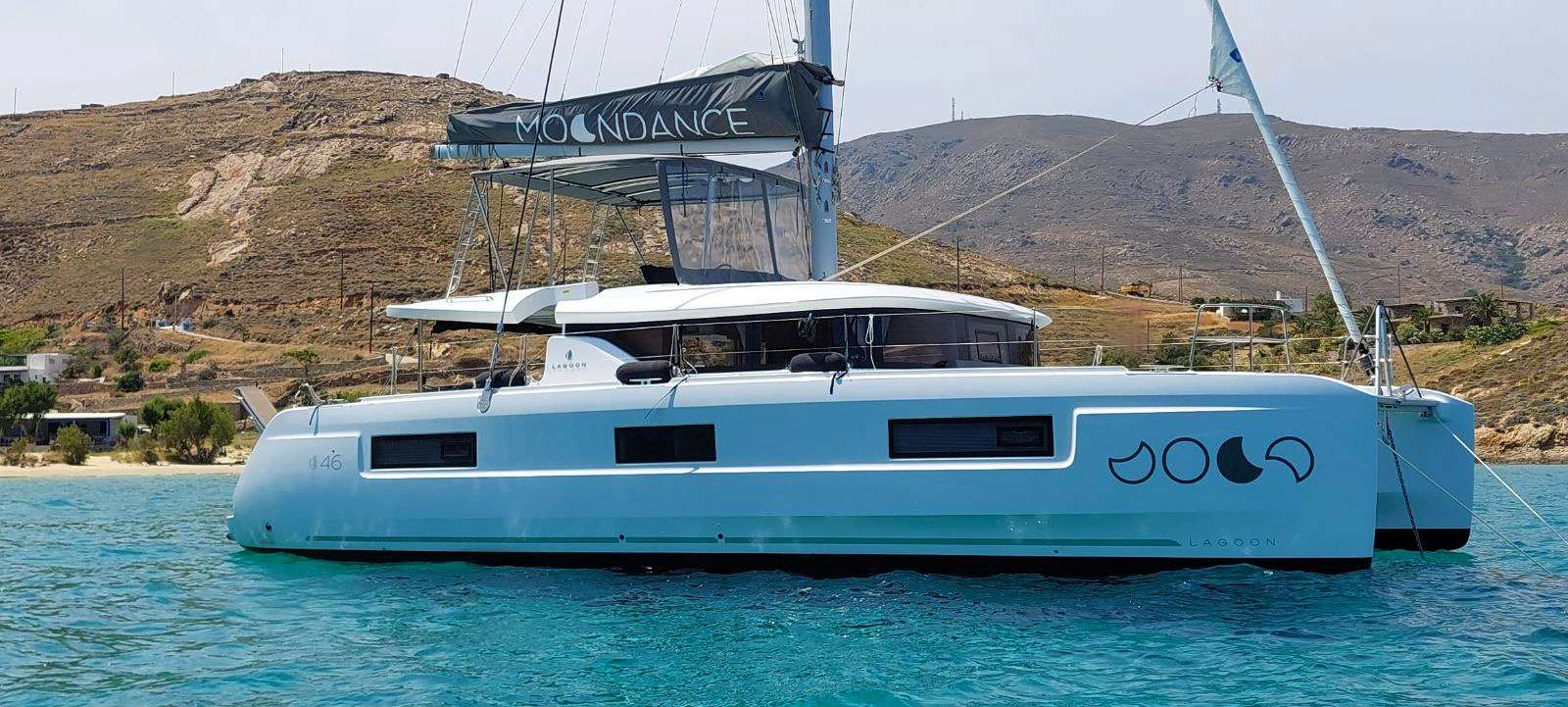 Ladies and gentlemen, allow me to introduce the magnificent Lagoon 46 Moondance, a true gem of the seas. Designed to deliver the utmost luxury and performance, this sleek catamaran offers an unparalleled sailing experience. With its elegant lines and spacious deck layout, Moondance is an embodiment of beauty and functionality.

Step aboard, and you'll be greeted by a meticulously crafted interior that exudes contemporary sophistication. The living areas are bathed in natural light, thanks to large panoramic windows that offer breathtaking views of the surrounding waters. The salon is a haven of comfort, featuring plush seating, a stylish dining area, and a state-of-the-art entertainment system, ensuring that every moment spent on board is one of sheer pleasure.

Moondance accommodates up to 8 guests in four exquisite cabins, each with its private en-suite bathroom. The cabins are designed with utmost attention to detail, combining luxurious materials and modern amenities to create a peaceful retreat. Whether you're traveling with family or friends, everyone will find their own sanctuary to relax and unwind.

When it comes to outdoor living, Moondance truly shines. The spacious flybridge offers a versatile space for sunbathing, socializing, or simply admiring the horizon. Equipped with comfortable seating, it's the perfect spot for alfresco dining while basking in the warmth of the sun.

Under sail, Moondance is a true performer. Its innovative design and cutting-edge technology ensure smooth navigation and exhilarating speeds. Whether you're a seasoned sailor or new to the world of yachting, this catamaran offers a thrilling adventure on the open waters.

In conclusion, the Lagoon 46 Moondance is a masterpiece of design and craftsmanship, combining elegance, comfort, and performance in perfect harmony. Prepare to be enchanted as you embark on an unforgettable journey aboard this exceptional vessel, where every moment is a celebration of the sea and the joy of sailing.
Accommodations:
Lagoon 46 Galaxy has 4 double cabins with 4 wc(electric)
2 skipper cabins on bow with 1 w/c on one of them