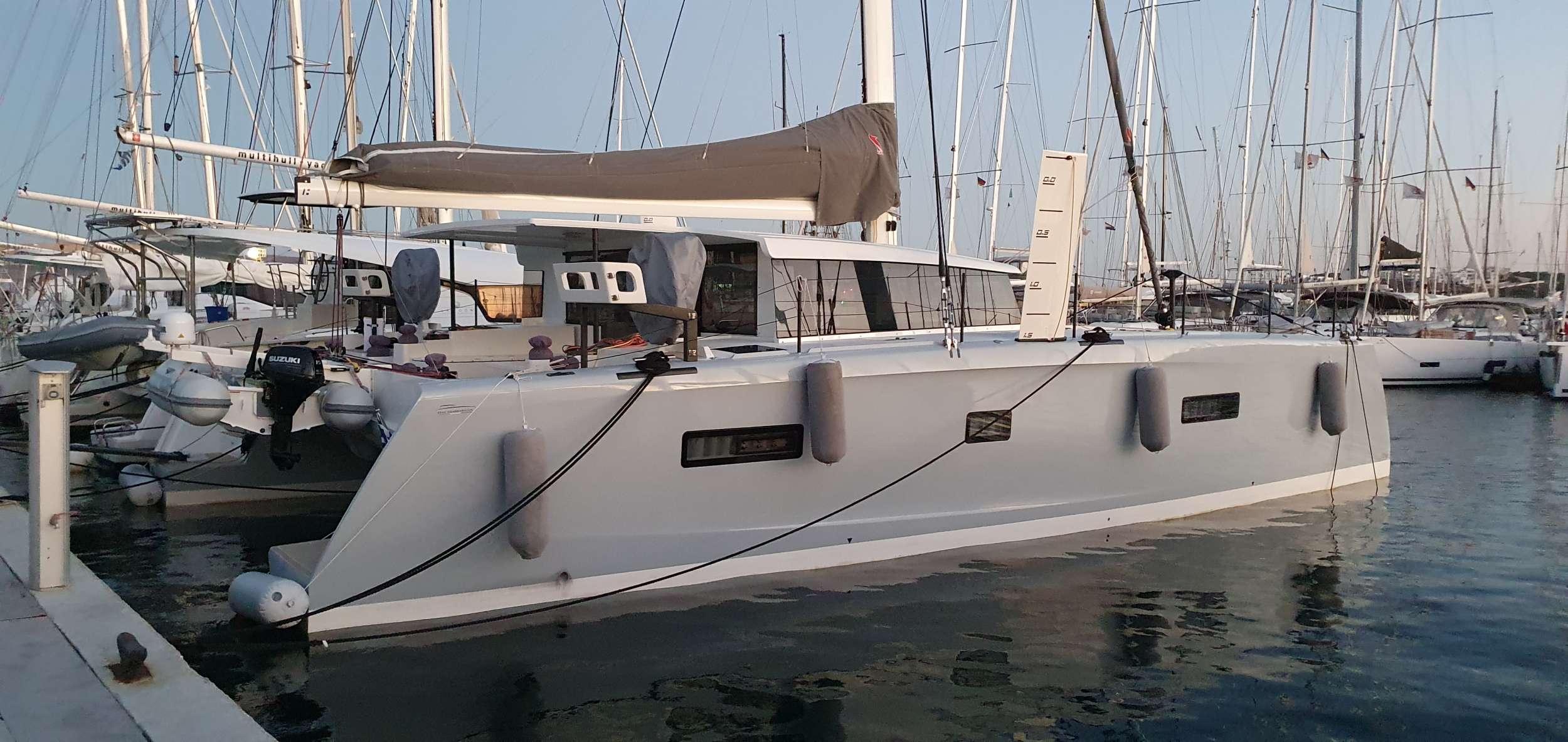 Edenj is a brand new Itacatamaran 14.99, a (very) fast luxury cruising 15mt (50ft) catamaran, modern and elegant, with hi-tech construction and several innovative solutions. Very different from the usual charter catamarans...

100% built in epoxy infusion and carbon, with carbon mast, front beam and bowsprit Edenj is conceived and built around 3 equally important pillars:

Comfort - Safety – Speed!
COMFORT: Italian design and finishing, top quality appliances and a full list of comfort amenities provide luxury on board in a relaxed atmosphere: full A/C and heating, hot water, water maker for wider independence and more time for sailing, generator, on board Wi-Fi, 3 fridges and 1 freezer, induction stove and electric oven, UHD TV and Home Theatre, high quality Hi-Fi, electric and reversible Harken winches controllable from both helm stations for fingertip sailing, electronic engine throttles, 220 V plugs with 8kw inverter, 1,4 kw solar panels, etc..!

The external lounge with table, sofa, daybed, and 360° removable sun shades provide a cozy and fresh atmosphere on the same level while the luxury appointed salon, creating a single large open space. The front deck and comfortable nets offer a vast additional sunny area, super comfortable puffs and can be also covered with a large canopy to offer a wide fresh area with a stunning view in the front of the boat.

Unlike basic super crowded charters, as said, Edenj has 2 cabins with 2 bathrooms available to guests (the entire port hull), and hosts just 4 persons at a time, ensuring a true luxury experience on a 15m long / about 150 total sqm catamaran!

SAFETY: One of the very few cruising catamaran models in the world with hulls and deck built in one single piece, Edenj offers unparalleled safety and stability while going at sea. Its innovative waterline design, with flat and wide bottoms, as well as its high height of the deck on the water, contribute to a smooth as well as a comfortable passage over waves.

Safety is also taken care by fully retractable daggerboards, heavy weather specific sails, latest generation navigation electronics, state of the art lightning protection system, Quantum radar, OSCAR advanced infra-red 24h anti-collision system, AIS Class A, EPIRB, on board satellite communications, strobe light, propeller with rope cutters, etc.

Also on safety: there is no gas on board Edenj, but just electricity, provided by a full array of solar panels providing self-sufficiency.

Finally SPEED: a lightweight displacement of only 12.5 tons, provided by Hi-Tech construction and carbon mast, as well as its innovative waterlines, retractable daggerboards and latest generation sails (including a powerful Code O), all ensure fast sailing and getting first to the best place in the next bay!