MERIDIAN ADVENTURE - Aegean Coast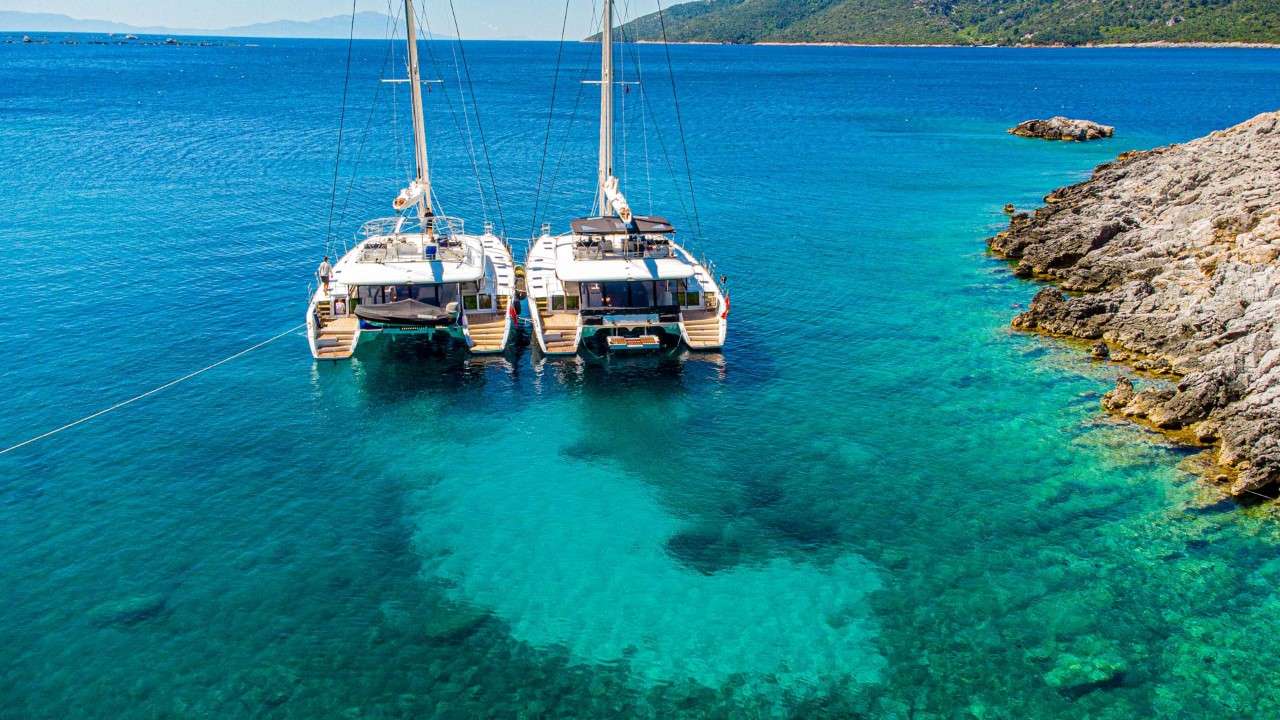 EMBARK ON AN EPIC JOURNEY ON THE AEGEAN COAST
Meridian Adventure SAIL creates meaningful journeys where one is immersed in nature with a panoply of ocean activities that elevates sailing to an art.
Explore some of the most unspoilt and spectacular places in the world upon one or more of our vessels.
"Our fleet is exclusively designed for the places you will go, connections you will make and things you will do. The vessels are purely the
mode of transport; we focus on creating deeply transformative journeys with carefully crafted itineraries."
The Aegean has been explored since ancient days, and yet it offers innumerable islands, coves, villages, and vistas for the intrepid traveler
to explore. The Turquoise Coast is one of Europe's most unspoilt destinations, as it winds around the islets and beach towns throughout
Turkey and Greece. Izmir is one of Turkey's most beautiful and unspoilt historical cities, home to the remarkable Ephesus ruins, the honey-coloured
stone bearing witness to thousands of years of civilization. Set sail from Hidden Bay Teos to explore the azure waters along the
Turkish coastline. Under sail, head for the less explored Greek islands. The cobbled streets and stark white and blue structures offer
traditional cuisine and crafts, golden beaches and warm, calm water. Here, people live much as they have done for hundreds of years.
Season: APRIL - MID OCTOBER

The vessels are based out of Izmir, which is one of Turkey's most beautiful and unspoilt historical cities, home to the remarkable Ephesus ruins, the honey-coloured stone bearing witness to thousands of years of civilization. Set sail from Hidden Bay Teos to explore the azure waters along the Turkish coastline. Under sail, head for the less explored Greek islands. The cobbled streets and stark white and blue structures offer traditional cuisine and crafts, golden beaches, and warm, calm water. Here, people live much as they have done for hundreds of years.

DEDICATED TO SERVICES EXCELLENCE
• We offer a complete solution
• A dedicated Journey Planner curating your experience from when you step onboard.
• Fully serviced cabins and personal
• Fully serviced cabins and high-end hospitality
• All food, vibrant and fresh gastronomy as well as all drinks are included.
• Dives and sporting equipment included
• Adventure activities and cultural experiences

Accommodations:
There are a total of THREE Lagoon 62's in this fleet: Cruising area covers the Aegean coastline of Turkey and the neighboring Greek Islands.

The 3 Lagoons offer 4 queen cabins each with private en-suite head and shower.
Crew have separate cabins and heads with showers.

All boats have spacious main salon, spacious aft deck for social time and alfresco dining, a front deck and a top fly bridge (with 360 degree view) for lounging.

"Our fleet is exclusively designed for the places you will go, connections you will make and things you will do. The vessels are purely the mode of transport; we focus on creating deeply transformative journeys with carefully crafted itineraries."

Guests have access to a range of water sports activities through the Meridian Adventure Dive & Water Sports Club located in Sığacık, Izmir. Offering Diving, Fliteboards, Jet Boots, Paddle boards, Seabobs, F-One Wing Surf, Towable Tubes, and more.

Yacht provides Molten Brown shower amenities.